The Greece Solidarity Campaign and Anti-Fascist Action for Greece invite you to:
Never Again! Marking 50 years since the Military Coup in Greece & Celebrating its Overthrow.
Friday 28th April at 6pm at Unite the Union (Diskus Room), Holborn, London.
Speakers from Greece and from those who occupied the London Greek Embassy in solidarity with the Greek resistance to the military coup.
The Theodorakis songs banned under the dictatorship sung by Iris Mavraki
Greek food
What Happened on April 21st 1967.
Before dawn on April 21 1967 a far-right group of 'colonels' ripped apart Greek democracy.
Some of them had supported the wartime collaborationist government under the Germans. All had supported the 1936-41 Greek dictatorship and fought against left resistance in the civil war of 1944-1949.
When the upcoming elections looked likely to lead to another centre-left government (after King Constantine dismissed the 1965 one), the Colonels acted.
Tanks appeared at strategic points in Athens and some 8,000 leftists were arrested.
Later that day King Constantine legitimated the Coup. He appointed a new prime minister who formed a military government.
The Colonels issued a decree instituting military law, abolishing the constitution and cancelling the elections. It even became illegal to listen to music by resistance figures like Mikis Theodorakis and Melina Mercouri.
Torture was commonplace :   Torture was commonplace over the next seven years. At least 3,500 'guests' passed through torture centres. Six thousand leftists were imprisoned or exiled to remote Greek islands.
American Vice-President Spiro Agnew welcomed the junta as 'the best thing to happen in Greece since Pericles'. The British Labour Government hesitated briefly and then recognised the coup and accepted Greece staying in NATO.
In 1968, tanks changed the Prague government. In 1971 General Pinochet followed suit, killing Chile's President Allende and thousands of Chilean leftists.
Resistance:  Resistance to the Junta grew in Greece, particularly among students. On February 21 1973 they occupied the University of Athens against the forcible drafting of 'subversive youths'.
An occupation of Athens Polytechnic then sparked mass demonstrations and new military repression.  On November 17 1973  24 students and demonstrators were killed and hundreds injured.
In July 1974 the Junta staged a coup against the President of Cyprus, Archbishop Makarios, who had called for Greek officers to get out. This was followed by the Turkish invasion of the North of the island. The Greek military's role then caused mass defections from the Junta, which collapsed immediately.
In December 1974 a two to one majority of Greek people voted in a referendum to establish the Third Hellenic Republic. November 17 then became a national holiday in schools and colleges throughout Greece.
( From an article by Steve Jefferys, then an LSE student who was one of those who occupied the London Greek Embassy in April 1967, originally published in Searchlight magazine).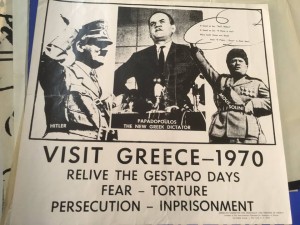 ………………………………………………………………………………………………………………………………….
Piraeus dockworkers leader challenges privatisation plan
Privatisation plans introduced as part of the second and third Greek bailout Memorandums will mean 'a more expensive price for travel and goods from the Greek islands, elsewhere in the Mediterranean and mainland Greece' said Giorgos Gogos (pictured left) at a well attended joint meeting of the Greece Solidarity Campaign and Unite the union London and Eastern Region on April 27th 2016. Other speakers at the London meeting, held at UNITE offices in Holborn were London Unite representative Bronwyn Handyside, Isidoros Diakides co-chair GSC and Unite Executive Council Member for Docks and Waterways Andy Green (pictured above right).
Giorgos said 'the ports were the first public service facing wholesale privatisation', as a result of the Troika's imposition of harsh loan terms. Giorgos is GENERAL SECRETARY of the Docker's union in Piraeus, one of the largest sea ports in the Mediterranean.
Privatisation of the Pireaus port, already part operated by the Chinese company CosCo, will be followed by the port of Thessaloniki. The proposals which the left-wing Syriza government have attempted to stop and since modify, are likely to begin implementation in May.
'The consequences for the local communities will be very serious' Giorgos explained. While the government have been seeking to protect 'public or free spaces' (including access to beaches) and public buildings along the coastal strip of the town (which lies 7 miles from central Athens) these are still contested issues.
'CosCo are anti-labour and anti-trade union. They don't allow small businesses to operate around the port, for example lorry drivers—they want to control everything,' said Giorgos.
Speaking of his trade union Giorgos said it had 'worked to create a common front with the local communities, other unions and including the Chamber of Commerce'. '58% of the local population are against privatisation and 60% support the trade unions,' he reported.
'The jobs, working conditions, wages and collective bargaining rights of the 1100 dock workers (in the public port) are under threat' said Giorgos while the impact on the ancillary services and communities (up to 10,000 workers) which depend on the port are also in danger. 'A more hostile environment is being created' he reported, while plans to debate 'liberalising' labour legislation in the Greek parliament in May could make hiring and firing easier and allow employer lock outs. However, he was optimistic that the port workers in both the private and soon to be privatised terminals would be working more closely together over the coming period.
Solidarity from International Dockworkers Council (IDC) around Europe had been strong, although there was more to do to build a common way forward he said. The solidarity visit sponsored by Unite will see him speaking to port workers at Southampton and Felixstowe on a whistle-stop tour.
The Greece Solidarity Campaign invites you to
   A Greece Solidarity Fund-Raising Dinner 
            Friday May 13

th

2016 7.30pm 

            
Cypriot Centre, Earlham Grove, Wood Green N22 5HJ
Fabulous buffet dinner, live bouzouki music, a raffle.
Reports from the latest GSC delegation to Athens 
Tickets £30.00. 

Book your tickets now!

 Book a table  greecesolidarity@mail.com
Send cheques for 'Medical Aid for Greece', to Greece Solidarity Campaign, Housman's Bookshop, 5 Caledonian Road, London N1 9DX. Pay direct: to Medical Aid for Greece A/C 20307259  Sort Code 60-83-01  
 
Now more than ever, the Greek people need our solidarity and support.
They are dealing with two extreme humanitarian crises. They have stepped up with inspiring solidarity, determination and courage, and continue to resist austerity.
8 years of the severest austerity measures have led to 25% unemployment, 50% youth unemployment, wages cut by over 25% and pensions by 45%, recurring tax rises, massive spending cuts in education and health and 28% of children living in poverty.
The grassroots solidarity movement has developed a social solidarity network of self-organised free health clinics and pharmacies, community kitchens, without middlemen food markets, schools and employment projects. The solidarity structures are run by thousands of volunteers and organised by inclusive democratic assemblies.
The solidarity clinics and pharmacies serve the unemployed and migrants with no health cover, and the people who the Greek health system cannot cope with. The health system is in meltdown. In Athens, all primary care clinics were closed and the hospitals, whose budgets were cut by 50%, are overwhelmed. Medical supplies are running low or have run out. The number of staff is critically low. Mental illness has doubled and suicides risen by 35%.
Then between January 2015 and March 2016 one million refugees fleeing from Syria, Afghanistan and Iraq arrived on the Greek Aegean islands, travelled by ferry to Piraeus, near Athens, then north to the Balkans until they were stopped by border closures. The Greek people, individually and through the collective solidarity structures have welcomed the refugees and tried to meet their urgent needs with warmth and generosity, sharing what little they have. The volunteers now work double shifts, at the solidarity structures and with the refugees.
The Greek people are resilient, but funds are needed!
All funds raised will go to the solidarity clinics and pharmacies in Greece
A Greece Solidarity Fund-Raising Dinner for Medical Aid for Greece  May 13th 2016


 The Greece Solidarity Campaign 2015 Fund-Raising Dinner        
        Friday September 18th 2015 7.30pm
Cypriot Centre, Earlham Grove, Wood Green N22 5HJ
Fabulous Buffet Dinner! Live Bouzouki Music! A Raffle! Art Auction*!
All proceeds to Medical Aid for Greece.

Bring own wine.
ORDER TICKETS (BOOK A TABLE!) £30.00 each from greecesolidarity@mail.com . Send cheques, payable to 'Medical Aid for Greece', to Greece Solidarity Campaign, Housman's Bookshop, 5 Caledonian Road, London N1 9DX. Pay direct: to Medical Aid for Greece A/C 20307259 Sort Code 60 83 01  
* ART AUCTION AT DINNER : Respected Greek Cypriot painter Kapraras Alexandros has donated an original artwork pictured below to be auctioned in aid of Medical Aid for Greece. More about Alexandros Kapraras here:  KaprarasAlexandros 2015081901
'Colour blind test ( Greek Flag)'   Unframed: 297 mm x 420 mm; Framed: 425 mm x 525 mm.
THE GREEK DEBT CRISIS AND THE WAY FORWARD   – TUESDAY APRIL 28th 2015 
18.30 at Unite the Union, 128 Theobalds Rd, Holborn, London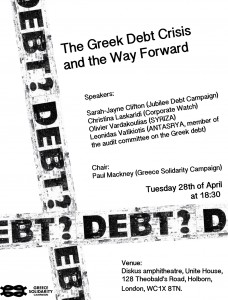 Speakers:
Sarah Jayne Clifton (Jubilee Debt Campaign)
Christine Laskaridi (Corporate Watch)
Olivier Vardakoulias (Syriza)
Leonidas Vatikiotis (Antarsya and Member of the Audit Committee on the Greek Debt)
Chair: Paul Mackney (Greece Solidarity Campaign)
Organising Meetings of the Greece Solidarity Campaign The organising meeting of the Greece Solidarity Campaign is on the third Wednesday of every month at 6:30pm in the Unite offices, 128 Theobald Road, Holborn, London WC1X 8TN.
  'PUTTING HOPE INTO PRACTICE'  – Post Election Meeting – Wednesday January 28th 6.30 at the TUC, Great Russell St. London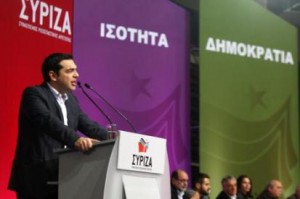 In Greece the left-wing anti-austerity party SYRIZA stands on the verge of being elected into office in the general election on January 25th. The Greece Solidarity Campaign is organising this public meeting to discuss the results of that election.. Speakers will include leading members of SYRIZA, Marina Prentoulis and Stathis Kouvelakis who will be travelling directly from the elections and will be able to give a first hand account of the campaign and of the results. Also speaking will be Paul Mackney and Kate Hudson from GSC  and the writer Tariq Ali. We are also honoured that the TUC President Leslie Manasseh has agreed to speak on behalf of the TUC.  Register here   Stand with Greece – Vote for Change Solidarity Action  – Saturday 17th January 2015, 12 noon at Big Ben, London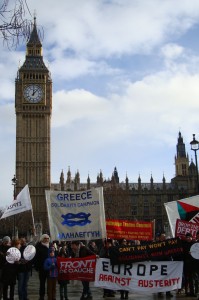 The weekend of 17th and 18th January there were Solidarity Actions across Europe showing support for the Call for Change to the failed austerity policies imposed on Greece by the IMF, European Central Bank and EU.  Syriza, the anti-austerity radical left coalition party which issued the Call, leads in the polls with the Greek elections due on January 25th. The Greece Solidarity Campaign(UK) organised the Solidarity Action by Big Ben, Westminster, London.   Greece Solidarity Campaign Pre-Election Briefing January 12th 2015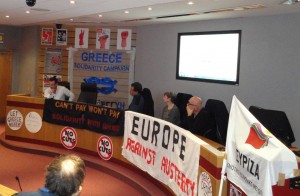 Almost 100 people attended a briefing on the forthcoming elections in Greece in the Diskus Room at UNITE's HQ.  Chaired by Kate Hudson, with speakers including: Stathis Kouvelakis (Syriza Central Committee), Costas Douzinas (Syriza and Birkbeck College Director of Humanities), Paul Mason (in a personal capacity).  Katy Clark MP was prevented from attending because a 3 line whip kept her at the House of Commons. More photos on GSC Facebook   A very successful Fund-Raising Dinner  for Medical Aid for Greece.
A very successful dinner was held on Tuesday October 21st 2014 at Elysee Restaurant,  London  W1T 1DP.  All proceeds raised for Medical Aid for Greece are being sent to a Social Solidarity Clinic in Athens.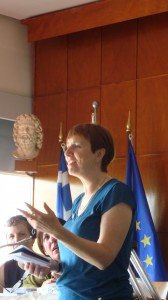 Eighty five people attended and enjoyed the good food, Greek music, the raffle and informative and moving speeches. Unite the Union, ASLEF, Fire Brigades Union, TSSA, Save Lewisham Hospital Campaign, Chartered Society of Physiotherapists and Unison were all represented. Members of the 17 strong delegation to Athens gave moving reports of their impressions of the situation facing the people of Greece as a result of the harshest austerity measures imposed in Europe by the Troika and of the stirring resistance and social solidarity centres, medical clinics and without middleman markets established to support the people. Dr Louise Irvine, chair of the Lewisham Hospital Campaign, and  Manuel Cortes, General Secretary of the TSSA union , both members of the delegation, spoke  passionately about the visit.  ( Photo: Louise Irvine speaking at the Evangelismos Hospital in Athens) The people of Greece and their trade unions need our solidarity and support in their battle against austerity! The Greek trade unions have organised some 30 General Strikes. There have been thousands of demonstrations, street battles and occupations of schools, factories and government buildings. The latest year long battle of women cleaners at the Finance Ministry against redundancy and privatisation is the front line of the resistance to the selling off of all public service jobs. The people of Greece have been battling the onslaughts of neoliberal capitalism since 2010 – the Greeks were to be the expendable guinea pig for the Austerity Policies which are being imposed across Europe.  What's happening in Greece now, is what will happen if Cameron gets in again here. There has been a massive growth in support for anti-austerity parties – the latest opinion polls give Syriza – the party comprised of a coalition of the radical left – a big 11.5% lead and elections may be in the spring.  http://greecesolidarity.org/?p=1906. THE PEOPLE OF GREECE NEED OUR SOLIDARITY TO KEEP GOING! National unemployment stands at 28% – the highest in Europe – with 60% youth unemployment. Pay and pensions have been cut.  Taxes have been raised and new ones imposed retrospectively. Everything is being sold off. Health Care and medicines are now not available to many. Public Health cuts have cut children's vaccinations. Preventable diseases have reappeared. http://greecesolidarity.org/?page_id=807.   To resist and survive – the people have established a growing social solidarity network of free health clinics and pharmacies, community kitchens, exchange markets, farmers food markets and local support and solidarity associations.
Europe against Austerity – Public Meeting on the European election results – July 4th at 18.30 at Unite, WC1X 8TN.
Come along and discuss the Eu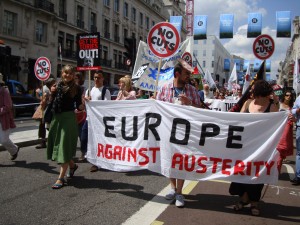 ropean election results and how to build international resistance to austerity policies. The Greece Solidarity Campaign is convening this meeting and it is supported by the radical left parties and movements of Greece, France, Spain, Italy, Portugal, Turkey and Britain. There will be opening remarks by Marina Prentoulis of Syriza, Greece, on the growth in support for the radical left and the danger of the far right, followed by brief reports by speakers from a number of countries and general discussion. Invited contributions from: Syriza, Antarsya, Podemas, Front de Gauche, PIIGS in London, Anti Fascist Action for Greece, Sinistra Ecologia Liberta, 15-Marea Granate, Day-Mer, Migrantes Unidos, Greece Solidarity Campaign. Friday 4 July 18.30 – 20.30 in the Diskus Room, UNITE the UNION, 128 Theobalds Rd, WC1X 8TN. Corner of Old Gloucester St, nearest tube Holborn
Greek Health Workers Fighting Austerity – Meeting Thursday 20 March 2014
A fantastic opportunity to hear from Vivi Paschali, secretary of the joint unions at Evangelismos, the biggest Athens public hospital and member of the General Council of the public sector union ADEDY, who will speak at this meeting jointly organised by Unite the Union London and Eastern region and the Greece Solidarity Campaign. Other speakers  include Jim Kelly (Unite) and Rachel Newton (Greece Solidarity Campaign). The meeting is at Ron Todd House, 33-37 Moreland Street, EC1V 8BB ( nearest tube Angel) and starts at 7.30pm on Thursday 20 March 2014.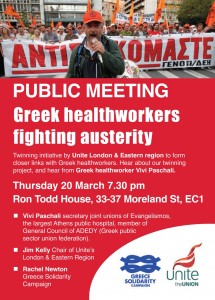 STAND UP TO RACISM AND FASCISM  – Saturday March 22  2014  London The national parade from Parliament Square to rally at Trafalgar Square on UN anti-racism day. No to scapegoating of immigrants. No to Islamaphobia. Remember Mandela – YES to diversity.  Organised by the TUC and Unite the Union, sponsored by CWU,GMB,NASUWT,NUT,PCS,UNISON,Unite the Union. Supported by MCB,MRM, Morning Star.