Come along and discuss the Eu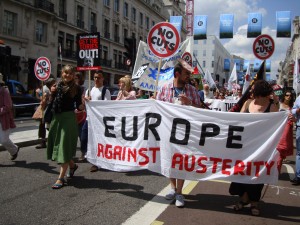 ropean election results and how to build international resistance to austerity policies. The Greece Solidarity Campaign is convening this meeting and it is supported by the radical left parties and movements of Greece, France, Spain, Italy, Portugal, Turkey and Britain.
There will be opening remarks by Marina Prentoulis of Syriza, Greece, on the growth in support for the radical left and the danger of the far right, followed by brief reports by speakers from a number of countries and general discussion.
Invited contributions from:  Syriza, Antarsya, Podemas, Front de Gauche, PIIGS in London, Anti Fascist Action for Greece, Sinistra Ecologia Liberta, 15-Marea Granate, Day-Mer, Migrantes Unidos, Greece Solidarity Campaign.
Chaired by Paul Mackney, Greece Solidarity Campaign
Friday 4 July 18.30 -
20.30 in the Diskus Room, UNITE the UNION, 128 Theobalds Rd, WC1X 8TN.
Corner of Old Gloucester St, nearest tube Holborn