Rubber-glove Rebellion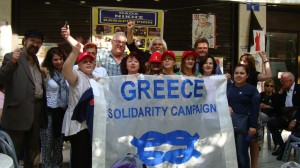 The 14 month protest by cleaners, laid off from tax offices and the Greek Finance Ministry, which has captured the imagination of those opposed to the country's harsh austerity programme was reported by Maria Margonis on the BBC 15. January 2015 https://player.fm/series/documentaries/docarchive-greece-the-rubber-glove-rebellion-15-jan-2015
Greece's radical left could kill off austerity in the EU
If Syriza wins a possible snap poll in the new year, positive repercussions could be felt across Europe.
Owen Jones writing in The Guardian 22 December 2014
'Another war looms in Europe: waged not with guns and tanks, but with financial markets and EU diktats. Austerity-ravaged Greece may well be on the verge of a general election that could bring to power a government unequivocally opposed to austerity. Momentous stuff: that has not happened in the six years of cuts and falling living standards that followed the collapse of Lehman Brothers.
But if the radical leftist party Syriza does indeed triumph in a possible snap poll in the new year, there will undoubtedly be a concerted attempt to choke the experiment at birth. That matters not just for Greece, but for all of us who want a different sort of society and a break from years of austerity…. more
Government Crackdown on Golden Dawn Won't Defeat Greek Fascism
Interview with Costas Lapavitsas on Reel News October 3rd 2013
The only way to defeat the Golden Dawn and Greek fascism is through popular mobilization that persuades Greek working people and the middle class that democracy and social change can create a just economy.
The gap between rich and poor is getting bigger and the richer are getting richer as a result of the crisis, Manos Matsanganis, an associate professor at the Athens university of Economics and Business, told a conference in Athens on Tuesday.  42% of the population are now below the poverty line.
From the
Guardian Monday 17 December 2012
Syriza says attack on MP was 'brutal assassination attempt'
Dimitris Stratoulis, deputy of leftwing Greek party, set upon at football match in Athens on Sunday night.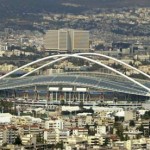 Syriza MP Dimitris Stratoulis was attacked by three men while at the Olympic stadium in Athens on Sunday night.From the
BBC 17 December 2012
Greek MP 'attacked by far-right Golden Dawn'