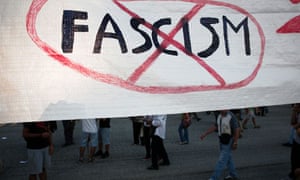 Please add your name to our statement here.
GSC letter – full list of signatories – updated 10am, 07/10/2020
On Wednesday 7th October the five and a half year trial of the Greek neo-nazi organisation Golden Dawn is expected to conclude.
The 68 defendants, who include the leadership and former MPs of the neo-fascist group, stand accused of the murder of Greek musician Pavlos Fyssas in September 2013, the attempted murder of Communist trade unionists and their leader Sotiris Poulikogiannis, the attempted murder of Egyptian immigrant fisherman Abouzid Embarak in his home in June 2012, and finally the charge of running a criminal organization.
The final charge, crucially, is based on evidence showing that Golden Dawn is a neo-fascist organisation, operating under hierarchical, mafia-style discipline, and that members carried out violent crimes under orders and with knowledge of the leadership.
The public prosecutor has controversially asked for the court to dismiss the fourth charge, and has argued that Golden Dawn members were acting alone in committing the other crimes. Lawyers for the victims argue that in carrying out violent attacks and murder, individual members operated under orders and that the Golden Dawn leadership must share criminal responsibility with their organised cadres.
An acquittal on the fourth charge would see Golden Dawn re-legitimised as a political party and the return of €8 million withheld since its state funding as a political party was suspended.
We the undersigned stand in solidarity with those fighting fascism and the far-right in Greece, and oppose an acquittal on any of the charges.
We ask the Greek court to set an example in outlawing this neo-nazi organisation from civic and political activity, to reach guilty verdicts on all charges, and to sentence the Golden Dawn defendants accordingly.
Please add your name to our statement here, or email messages of support to greecesolidarity@mail.com.
GSC letter – full list of signatories – updated 10am, 07/10/2020