October 2015 Delegation Report
This delegation was composed of 17 participants. It was one of the largest GSC has sponsored over the last four years. TSSA sponsored MPs, candidates, trade union officers and contacts contributed significantly to the numbers.
It coincided with a busy time for the newly re-elected SYRIZA led coalition government with most ministers preparing speeches and being sworn in. It came after a period of unprecedented upheaval in Greece with both a financial/economic, social/humanitarian and refugee crisis sweeping across the country. SYRIZA had two weeks earlier won a second general election, following their victory on January 25th. Their 7.5% majority again gave them a majority of seats but needed the support of ANEL, (Independent Greeks -anti-austerity nationalist party) to form a government. A third Memorandum of Understanding and Euro83 billion bailout had recently been agreed
Delegation participants were:
Clive Lewis MP, Geraint Davies MP, Kate Osamor MP, Caroline Lucas MP;
Manuel Cortes General Secretary Transport & Salaried Staff Association & President Greece Solidarity Campaign; Chris Clark, TSSA National Executive;
Dr. Adrian Heald; Biswas Kuntal, New Statesman/New Internationalist ;
Paul Scholey, Head of Employment Rights, Morrish Solicitors;
Sam Tarry, Political Officer TSSA ;
Wendy Pettifer, solicitor ;
Emine Ibrahim (Turkish speaking Haringey councillor);
Makbule Gunes (Kurdish speaking Haringey councillor);
Dave Augel UNISON West Midlands ; Caroline Lucas PA;
Isidoros Diakides, co-chair GSC, Mike Davis, Press officer GSC/Editor Chartist
Read the full Delegation Report here  Delegation oct 2015 report F
 October 2014 Delegation Report
A 17 strong Greece Solidarity Campaign delegation visited Athens in mid October. Leading representatives of the Save Lewisham Hospital Campaign, TSSA, Unite the Union, RMT, the Chartered Society of Physiotherapists, People's Assembly, People's Charter and a new Labour MEP joined GSC delegates on the 3 day visit.
The delegation visited a 'Without Middleman Market', the biggest hospital in Athens-Evangelismos, a Social Solidarity Centre supporting local families and a Social Solidarity Clinic providing free health care to the thousands with no health cover. The delegation had meetings with the sacked women cleaners camped outside the Finance Ministry for over a year ( see pictures above), the all  Athens Committee of Social Solidarity Centres, Evangelismos hospital doctors, nurses and union convenor (see picture above), the public sector union ADEDY,  the volunteer staff of Peristeri social solidarity clinic and the network Solidarity for All. We also met anti-austerity politicians – Syriza Leader Alexis Tsipras and Syriza MPs in Parliament and the recently elected regional governor and deputy governor of greater Athens – Attika.
 ''On the one hand, we were shocked and appalled at the hardship and the hunger among ordinary people, and the diabolical conditions in the big central hospital now all primary care has been closed down. On the other, we were moved and inspired by the determined resistance to austerity measures, the  impressively organised social solidarity initiatives and the programme of the anti austerity radical left Syriza MPs and Leader Alexis Tsipras who lead in the polls.'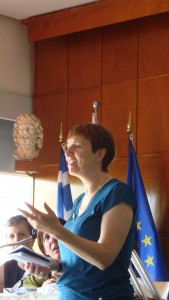 See the report 'What 'austerity 'has done to Greek healthcare' by Dr Louise Irvine, chair of Save Lewisham Hospital Campaign, seen here speaking in Evangelismos Hospital, Athens.
See below for Manuel Cortes's letter to all member of his union TSSA after the delegation visit
The delegation members:
Dr Louise Irvine (chair Save Lewisham Hospital Campaign), Pat Sakorski (Save Lewisham Hospital Campaign)
Manuel Cortes (TSSA General Secretary and GSC President), Geoff Revell (RMT) and his student grandson Elliot
Sarah Cook (UNITE head of Health for London and Eastern region), Danny Hoggan, (UNITE Greenwich Branch), Mary Usman (Unite Justice for Cleaners Branch)
Lesley Mercer (former Gen. Sec CSP and TUC President), Kim Gainsborough (CSP regional steward)
Brian Heron (People's Assembly and People's Charter), Mike Davis (The Chartist and GSC)
Lucy Anderson (new Labour MEP)
Greece Solidarity Campaign secretary Rachel Newton, co-chairs  Paul Mackney and Isidoros Diakinides and treasurer Cherry Sewell.
Meeting the sacked women cleaners  camped for over one year outside the Finance Ministry 
The meeting was reported in the Greek media.  Watch the short video interviews of Mary Usma ,Unite Justice for Cleaners branch member and Paul Mackney, co chair of GSC explaining why the GSC delegation is there.
Letter from Manuel Cortes, General Secretary of union TSSA, to his members on his return from the GSC delegation to Athens October 2014
Practical   solidarity: Help Greek children suffering the impact of austerity
As some of you may be aware, outside of my role as the General Secretary of   our union, I am also the President of the Greece Solidarity Campaign   – an organisation to which our union has been affiliated to for a number of   years. This is a responsibility which I took over following the sad death of   veteran Labour politician and strong ally of working people, Tony Benn. The   campaign was initiated by Tony in response to a request for solidarity from   the Greek people as austerity started destroying the social and economic   fabric of their society.
I recently took part in solidarity delegation to Greece (which I funded   myself). It is clear that ordinary people are paying an incredibly heavy   price for austerity, with the economy continuing to shrink, having already   contracted by over 20% since 2008. This has resulted in an unemployment rate   of almost 30% with a truly shocking 60% of young people being out of work.
Like in Britain, it was not ordinary Greeks who sat on the boards of the   financial institutions whose unfettered greed brought our economies to the   edge of the abyss. The Organisation for Economic Cooperation and Development   has recently said that almost 18% of Greeks haven't got enough food to adequately   feed themselves. The campaigners we met said that this figure was in excess   of 25%. In the 21st Century, this is completely unacceptable!
You won't know it from the way the Greek people are portrayed in our popular   press, but prior to the crisis, Greeks worked among the longest hours in   Europe and their wages were below the EU average. Fortunately, there are   strong historical links between the people of Greece and Britain stretching   back a very long time. In fact, following a coup in the late 60s, the   solidarity of people within our shores played a crucial role in helping   sustain a viable opposition to military rule. This is a tradition we should   all be proud off.
Perhaps most worryingly, Greece's healthcare system is collapsing. In 2008   Greece had 120 public hospitals, but a government closure programme will cut   this to just 80. A third of all clinical staff have also been dismissed. We   heard from doctors, nurses, radiographers and physiotherapists who all told   us who they can no longer cope with the demands placed on them due to the   cuts.
What makes things worse is that unlike our NHS, the provision of healthcare   in Greece is based on an insurance system. If you are out of work for a year   you lose your access to free healthcare. Frighteningly, there are currently   over 3 million Greeks with no access to healthcare – almost 30% of the   population. This is the equivalent of almost 19 million people in Britain not   having access to healthcare. Frankly, this simply reinforced my view that we   must always fight incredibly hard to keep our NHS open to everyone and free!
Inspirationally, ordinary people have reacted to this crisis by setting up   solidarity clinics. There are between 10,000 to 15,000 volunteers who provide   their services for free. A large number of them are health professionals who   have either recently been laid off or simply put in an extra shift during   their day off or after completing a days work. I spoke to several GPs who had   opted to leave paid employment to work for free in solidarity clinics. I also   met professors working in university hospitals who are now providing services   for free. I am humbled by the ingenuity, dedication and solidarity shown by   these people.
If all of the above wasn't bad enough, the price of prescriptions has also skyrocketed.   Sadly, it is the most vulnerable in Greek society who are paying the highest   price. Children are not being immunised as their parents can't afford the   price of inoculations. This is where you come in. The   people of Greece need our solidarity – they are not looking for charity – but   a gift of just £10 can help secure vaccines for children   – and send a message of hope and solidarity. You can find out more about what   you can do from Medical Aid for Greece.
I very much hope that you will feel able to show solidarity with our sisters   and brothers in Greece.
Best wishes
Manuel Cortes
General Secretary, TSSA
 
October 2013 Greece Solidarity Delegation to Athens 
This delegation consisted of Tony Simpson (Bertrand Russell Peace Foundation), Simon Renton (President UCU), Mary Compton (Former President, NUT), Cllr Isidoros Diakides, Mike Davis (Editor, Chartist), James Youd (Treasurer, GSC), Bob Archer (co-ordinator).
The delegation met with OLME teacher's union, ADEDY public service union, Greek citizens against Racism, , peace activists and Syriza MPs. They joined a demonstration and rally of university staff, visited the Solidarity Pharmacy at Patisia, OLME offices, National Technical University of Athens and the Community Assembly of Vironas.   Read the full report here:  Oct-2013-GSC-delegation-report
  We are All Greeks.   
Tony Simpson of the Bertrand Russell Peace foundation and member of the October 2013 GSC delegation reported the visit on his blog. Read it here   ' We are all Greeks'. 
'Feeling a way to new modes of struggle'.
Mary Compton, former President of the NUT, editor of www.teachersolidarity.com , and member of the delegation reported:
'The situation facing teachers and schools in Greece is one of the sharpest in the European Union. Ever since the financial crisis hit Greece, public services and in particular education have been consistently and viciously attacked in an effort to placate the Troika and behind them the bond holders who are making a killing by betting on sovereign states like Greece. …..
What I found most inspiring and exciting about my experience in Athens, was that the teacher's union OLME is beginning to feel its way towards new modes of struggle. What we in the NUT learned from the Chicago teachers' struggle last year was the absolute centrality of embedding the union's work in the local communities which its members serve. In Greece this is being taken to a new level. Both local officers of OLME and other teachers are deeply involved in the solidarity organisations which are proliferating throughout Greece.'   Read Mary's full report here:  Oct 13 Mary Compton on GSC Delegation
Mike Davis commented on the visit: 'There is a strong sense of history apparent in Greek activists: the experience of war-time occupation and the Colonel's junta being a ubiquitous backdrop to the conversations, hopes and fears for the future. The boarded up shops, street beggars, the murder of Pavlos Fyssas and other attacks by Golden dawn on immigrants and leftists, the social clinics all testify to a people undergoing extreme social hardship and political tension. it also reveals a people full of social creativity, militancy and determination. It cannot be sustained indefinitely. Theano Fotiou, MP, reminded us of the Syriza slogan:" No one to be left alone in a crisis" – it captures that solidarity and spirit.'
April 2013 Greece Solidarity Campaign/Fire Brigades Union  Delegation to Athens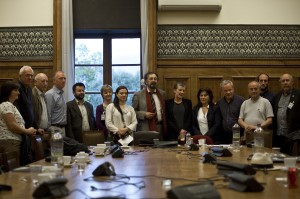 The 14 – strong delegation consisted of :
Matt Wrack, General Secretary, Fire Brigades Union ; Dave Green, National Officer, Fire Brigades Union; Sharon Riley, National Officer, Fire Brigades Union; Geoff Revell, Peoples Charter and RMT; Pilgrim Tucker, Community Coordinator, Unite the Union; Jane Beach, Professional Advisor (Health) Unite the Union; Andy Love MP; David Lammy MP; Daniel Trilling, editor and journalist, New Statesman; Mike Davis, editor Chartist magazine; Isidoros Diakides, Greece Solidarity Campaign; Rachel Newton, Greece Solidarity Campaign; Joseph Healey, Greece Solidarity Campaign and Queers Against Cuts; Beniamino Barresse, Greece Solidarity Campaign and independent film-maker.
Read the report of the April 2013 Solidarity delegation 'Greece on the Frontline of Austerity Europe' :  Greece on the frontline of Austerity Europe-1smallpdf com
The delegation visited a social solidarity market, met the SolidarityforAll committee, visited a public hospital, two solidarity health clinics, an unemployed and precarious workers' group, joined a mass anti-fascist march, visited a fire station, met with leading members of the Firefighters union in Greece , members of the public sector unions confederation ADEDY, a leading campaigner on women's health, LGBT activists and HIV organisations. They also met Syriza MPs.
The state of the Greek health service and the humanitarian crisis in Greece 2013 
 Read the speech by Jane Beach of Unite the Union following here visit here.
June 2012 Jeremy Corbyn MP – the second GSC delegation visit
Jeremy Corbyn MP had a busy 2 day visit to Athens which included being invited to speak at a big community meeting of 2000 people in the Keratea area of the city and meeting Tsipras, the leader of Syriza, the anti-austerity party. Read his impressions of everyday life for Greek people under austerity and his analysis of the Greek political situation here in ' A warning to us all'
March 2012 The first Delegation to Greece on film!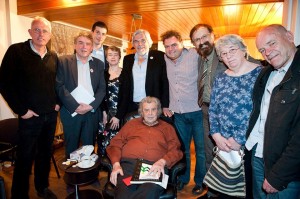 The delegation was organised by the Greece Solidarity Campaign, Coalition of Resistance and People's Charter.  The delegation met trade unionists, anti austerity activists and politicians, Mikis Theodorakis ( in picture with Andrew Burgin CoR, Kate Hudon CND, Paul Mackney CoR,GSC, Manuel Cortes General Secretary of TSSA union, Isidoros Diakides GSC, Dot Gibson National Pensioners'Convention, Dave Rogers Banner Theatre) and veteran anti-fascist Manolis Glezos who together issued a call for resistance to the austerity policies imposed on Greece.
Read an excellent feature published by the TSSA after the visit  'Greece:a crisis hurting millions to protect Europe's millionaires' here
Read a report of the delegation's meeting with Tsipras – leader of SYRIZA – the main anti-austerity coalition here
A fantastic short film of the visit was made – Watch it here