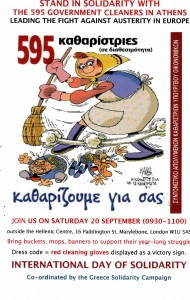 Frances O'Grady, General Secretary of the British Trades Union Congress has expressed the solidarity of its 6 million members with the struggle of 595 women cleaners battling for their jobs.
O' Grady said, 'I send solidarity to you and your sisters in the Ministry of Finance who are demanding justice and respect in the face of austerity. Our solidarity also goes to the union to which you belong, and the trade union confederations and their members who have done so much to resist and oppose the forces of austerity in Greece and across Europe.' 
Over a year ago the women were sacked by the government and replaced by outsourced casual workers. Tirelessly they have fought for reinstatement against government propaganda and police intimidation.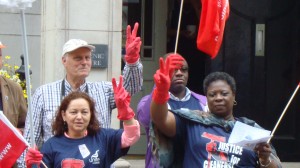 On Saturday September 20th almost 50 activists, including members of the Unite the Union Cleaners branch, gathered outside London's  Hellenic Centre as part of an International Solidarity Day. The action organised by the Greece Solidarity Campaign saw protesters wearing red cleaning gloves – which have become the symbol of the bitter dispute.  The Unite the Union branch presented a cheque for £200 to support the Greek women cleaners in their fight.
The action came on the eve of the Greek High Court's decision on their long running campaign for justice and jobs which has been vindicated by the Greek judiciary but appealed against by an intransigent government.
In expressing solidarity Frances O'Grady also said,
'Your struggle, which we are supporting through the Greece Solidarity Campaign in the UK, is symbolic of the cause for which we are all fighting. You demonstrate the spirit of workers everywhere in demanding the end of austerity and, in more concrete terms, demanding your jobs back in place of the sub-contractors brought in to replace you. People need good jobs with good wages, not permanently low-paid, insecure work.' 
'We support the international day of solidarity on Saturday 20 September, and I wish you every success in your campaign.' 
'Workers did not cause the economic crises and recession. The 595 women cleaners battle against unemployment, privatisation and pay cuts is part of our fight for an economy that puts people, jobs and social justice before profits and neo-liberal dogma, said Paul Mackney, co-chair of Greece Solidarity Campaign. 
Other trade union branches and trades councils sent message of solidarity to the Greek women cleaners.