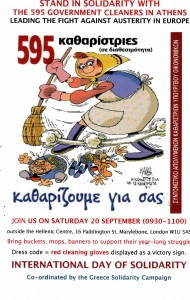 The year long campaign of resistance by 595 sacked cleaners has attracted mass public support in Greece, the issue becoming symbolic of the resistance to austerity and privatisation. Read more here
Support their campaign – send a message of solidarity. Visit the women's website -see the photos and music videos of their battle – leave a message on the International Solidarity page.
Help raise money (cheques to Greece Solidarity Campaign and we will transfer to Athens) –  Come and Stand in Solidarity with the 595 Cleaners 09.30 to 11.00 am Saturday 20 September – outside the Hellenic Centre, 16 Paddington Street, London W1U 5AS – where a conference will be discussing the crisis in Greece.