Many Greeks are gradually coming to terms with the collapse of a failing social and political system. They are taking matters into their own hands and addressing crucial issues through grassroots activism and local collective action. The solidarity initiatives offer solidarity in practice by activating citizens and supporting each other to survive, build collective strength, resist and build for an alternative better future.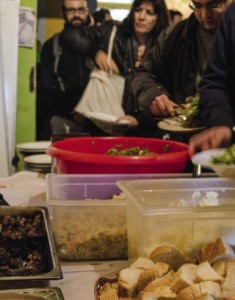 El Che F Collective Kitchen
There are varied collective community social structures growing up and spreading across Greece, for example:
The 'potato movement' where farmers trade directly with customers in the cities, cutting out the supermarkets and their inflated prices

Faced with the growing suicide rate, an NGO and a collective of mental health professionals run a non-profit 24/7 suicide helpline and offer psychological support services in Athens.

Local residents run a community 'haunt' -meeting place and swap shop – and organise community educational, cultural and environmental initiatives

Residents initiatives committees who have taken transformed empty disused spaces into local gardens, who run time banks and skills banks for local residents to provide mutual support

Some towns have developed their own local currencies

L

ocal collective solidarity kitchens are operating

 

which plan, budget, shop and cook nutritious meals where local people can eat together
Read about these initiatives here   and  about three here   – the Solidarity Network of Vyronas and the Solidarity Club of Neos Cosmos both in Athens and Participatory Table of Solidarity and Emancipation in Kavala (Northern Greece). Also see the reports from the Greece Solidarity Campaign delegations .