Gold mining in Greece: Stories of resistance and repression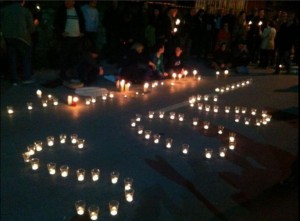 SOS Halkidiki
The Greek state granted mining rights for an area of 317,000 acres in  Skouries, Northern Halkidi, an area rich in gold, copper and other metals, to the Canadian multinational Eldorado Gold. The inhabitants of the area have been fighting this because it will cause irreversible damage to the environment of this beautiful area –  devastating the countryside and with it the tourist trade and dangerously polluting the ground water. There is ongoing resistance and the violent police actions.
Research has highlighted the negative impact on tourism, agriculture, animal husbandry, beekeeping, forestry, bio-agriculture and irrigation for farming. All of this is endangered by the destruction of the forest of Kokkavos. The dust from the mineral extraction will move like a storm in the whole region, destroying plant life and heavy metals entering the food chain from the mineral extraction of such immense proportions. The impact of tourism on the economy of Halkidiki is estimated to be in the region of 15-20% of GDP. This type of economic looting will undermine the quality of life. The mountain area of Kakkavos supplies the whole region with water. See more detailed information here
Thousands of people across the country support the local residents of Skouries by conducting several peaceful protests, like the one in the photo which took place in Thessaloniki. People light candles in order to protest against the mining project and send a message to the government.
See the film 'Welcome to Eldorado Gold' on our Film Page here
See the London Meeting on Skouries here
Action by New Government February 2015
In February 2015 the new Syriza government started to take measures against the Mining operation in Skouries. 'By decision DMEVO / A / F.10.1.6 / 172 214/375 / 02.26.2015, the Minister of Productive Reconstruction of Environment and Energy, Panagiotis Lafazanis withdrew No. 14379/3600 / 10.08.2014 Architecture and Electromechanical Design permit which had been issued in August 2014 for the «Skouries Enrichment Unit» in order to re-examine whether the studies submitted, on which the permit was based, is consistent with the relevant planning and environmental regulations.
The review was considered imperative, after written complaints submitted by various organizations and it aims to defend legitimacy and, first of all, the environment and the public interest, in the most efficient and effective way possible. ' More here