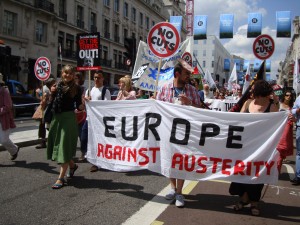 People from seven European countries came together at a meeting in London convened by the Greece Solidarity Campaign to discuss the outcomes of the recent European elections.
Marina Prentoulis of the Greek radical left coalition Syriza and GSC opened the meeting suggesting the results of the European elections marked an 'end of tolerance '. 'We have seen a growing xenophobia with the populist far right, assisted by the centre right as in Greece, making gains .'
She referred to the growth of openly fascist parties like Golden Dawn in Greece, Jobbik in Hungary—who gained European Parliament seats and the Front National in France which topped the poll as did UKIP in the UK.
However, in Greece- Syriza, the radical left coalition against austerity topped the polls in European and local elections. She argued that 'The left must not cede the populist voice to the right, but embrace it. It must do not in fear of 'the other' or in fear of change, but in the name of the people and against the political and economic elites. The left should embrace progress – things ought not to be what they used to be.'.Her full analysis has since been published in Red Pepper magazine and can be in our Comment blog .
Jane Fisher from Sinn Fein, highlighted the 'spectacular success' of Sinn Fein in Ireland – north and south, winning three European Parliament seats and securing 20% of the vote – 'The largest vote across the whole of Ireland since 1918'. SF also tripled their number of councillors and have become the biggest party in four main cities.  Alongside the SDLP they are fighting welfare cuts in Northern Ireland and developing a united front against austerity across the whole country.
Activists from Front de Gauche, France spoke of the success of their party in France and were sceptical of the strength of an anti-austerity left in the Socialist Party, despite Hollande being elected on an anti-austerity, jobs and growth platform.
Speakers from the Portuguese left, the newly formed Podemos party in Spain with five MEPS, and 15 M in Spain, and from Sinistra Ecologia Liberta in Italy and others spoke of successes for anti-austerity parties and of the innovative bottom up democratic processes involved.
Members of newly formed Left Unity party and of the Labour Party in the UK spoke for building the People's Assembly Against Austerity and its components –Labour Assembly Against Austerity and Women Against Austerity.
Paul Mackney, co-chair of the Greece Solidarity Campaign, chaired the event. He summed up the agreement to develop an ongoing forum or network of Europeans Against Austerity. Activists called for strong support for public sector workers taking strike action on Thursday 9th July and the TUC led demonstration in October.