Syriza – the party campaigning for a radical left alternative to the neoliberal politics of austerity imposed by the Troika and Greek government – topped the European elections with 26.57% showing a huge increase in support. See the full detail here.   They also won strong support in the regional and local elections.  Syriza issued this statement on May 26th: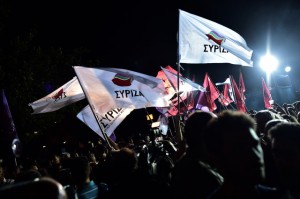 A historical victory for SYRIZA 
The result of the EU Elections :
Syriza is the first political force in Greece in 34 of the 56  electoral districts    
For the first time in the political history of modern Greece and for the second time in Western European history ( 1984  victory of the Italian Communist Party in the EU elections ) a great victory of the Radical Left !  
SYRIZA, after 97,9%  of the vote count  has won 34 of the 56 electoral districts of Greece. 
Corfu (38,9%),Achaea (34,2%), Heraklion (33,7%), Arta (32,9) , B' Piraeus district (32,4%) are among the highest results for SYRIZA. 
In the biggest urban centers of the country, such as Attica, Piraeus and Thessaloniki, SYRIZA is in first place, while in the B' district of Athens, the most populated district, SYRIZA is in the first place with 29,3%.  
Local and regional elections 
SYRIZA wins the regional district of Attica with almost 4 million inhabitants, as well as the district of the Ionian Islands. 
In Attica, SYRIZA, in alliance with other left wing parties and organizations,  wins 10 Municipalities,  9 of them for the first time.  
Traditional working class municipalities,  where Kesariani  stands out as a symbol of martyrdom and resistance against the Nazi occupation are  now  social and political examples of the unity of progressive and left wing forces, that coincide for a Greece without neoliberal policies and memoranda and a Europe of social justice, democracy and socialism :  Nea Filadelphia (Aris Vasilopoulos), Vyronas ( Akis Katopodis ), Agia Paraskevi ( Yiannis Stathopoulos), Nea Ionia ( Iraklis Gkotsis), Zografou ( Tina Kafatsaki), Aegaleo ( Dimitris Birbas), Chalandri ( Simos Roussos), Perama ( Yiannis Lagoudakis), Keratsini-Drapetsona ( Christos Vretakos ), Kesariani ( Yiorgos Kontostavlos) . 
In the large urban centers outside of Attica SYRIZA wins for the first time the cities of  Larissa and Corfu, also Livadia, Kozani, Lefkada etc. The traditionally conservative historical city of Sparta for the first time elects a left wing Mayor.