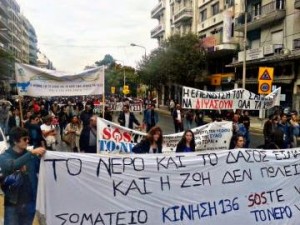 18th May 2014 will see a grass roots organised referendum in opposition to the government threats of water privatisation in Greece's second city Thessaloniki.
As part of the terms of the loathed "memorandum" imposed by the IMF, in 2011 the government announced its plans to privatize EYATH, the state-managed company providing the city's 1.5 million inhabitants with water and sanitation services. Suez, the water sector giant, was quick to express interest in profitable EYATH. As of May 2014, the privatization process is underway, and two bidders, French Suez and Israeli Mekorot, have advanced to the second phase of the public tender.
Despite the blackmail and propaganda, the citizens of Thessaloniki and their organizations have been opposing the government's plan to sell off the company for three years now. They have managed to put the issue in the public agenda and provide concrete evidence on how privatisation of water services worldwide has invariably led to increases in tariffs, deterioration of the infrastructure, decrease in water quality, and the exclusion of great parts of the population from access to this vital common good.
There is mounting social, political and legal pressure against selling off the company, and both local and national polls show that about 75% of the population opposes the measure. And with a Council of State (Greece's supreme administrative court) decision pending regarding the constitutionality of the privatization, the process is now stalled, despite the best efforts of the neoliberal government.   Read more here