The Greece Solidarity Campaign is organising a series of events in the lead up to the general elections in Greece on January 25th.
A Greece Solidarity Election Briefing  will be held next Monday January 12th at 6.30pm at  Unite the Union, 128 Theobalds Road, London WC1X 8TN (near Holborn Tube)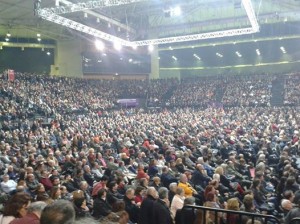 Hear first hand reports and analysis from Greece about this critically important Greek General Election. It looks as though a government committed to ending austerity could be elected.  Discuss the implications and find out about solidarity activity and how to get involved.  All welcome.
Speakers: Stathis Kouvelakis , Syriza Central Committee  –  Paul Mason (in a personal capacity)  –  Katy Clark MP –  Costas Douzinas, Syriza and Birkbeck College, Director of Humanities.
Chair: Kate Hudson, Greece Solidarity Campaign
  Coming up
Vote for Change Solidarity Action –

Sat 17 Jan

, 12 noon at Big Ben, London
Post election rally – 

Wed 28 Jan

, TUC, Great Russell St, London
Debt seminar with economists,      media activity, MP briefing event also planned
Details of all these activities and more to follow