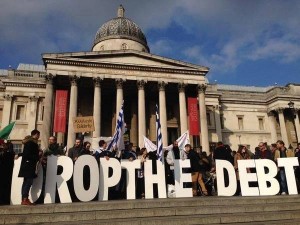 Greece is on the frontline of Europe's debt crisis. The Greek people have suffered six years of draconian austerity measures but the country's debt has grown ever bigger – it has shown that austerity measures do not work for the people, but only for the banks. €10 billion in debt repayments are due between now and the end of August.  A Europe-wide petition  on the Debt has been launched by 42 organisations in 14 countries. In the UK the Greece Solidarity Campaign is working with the Jubilee Debt Campaign to get hundreds of thousands to sign the petition.
The petition
'We, the citizens of countries across Europe, call for:
A European conference to agree debt cancellation for Greece and other countries that need it, informed by debt audits and funded by recovering money from the banks and financial speculators who were the real beneficiaries of bailouts.
An end to the enforcing of austerity policies that are causing injustice and poverty in Europe and across the world.
The creation of UN rules to deal with government debt crises promptly, fairly and with respect for human rights, and to signal to the banks and financiers that we won't keep bailing them out for reckless lending.
Please sign it here
News and Comment
You can follow the fast-changing developments and commentary on the Greek crisis by checking out these websites.
Paul Mason's Blog,     Keep Talking Greece  News and comment,       Change 4 All. Change in Greece   News, comment and opinions         Analyse Greece  News and Left Politics    The Press Project       Chronos – Online Magazine