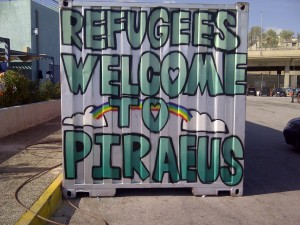 Greek courts have upheld the first appeal by a Syrian refugee against deportation to Turkey. The decision could unravel the controversial refugee deal recently struck between the EU and Turkey.
Greece is having to deal with a new humanitarian crisis as thousands of refugees find themselves unable to travel further into Europe while facing deportation back to Turkey.  Having made the hazardous and life threatening journey by sea to one of the Greek islands en route to finding a safe haven they now find the way forward blocked. The EU –Turkey deal to turn back refugees fleeing the war torn areas of the middle east, north Africa and Afghanistan, prompted by Austria and Macedonia's closure of borders to refugees, gives a new twist to agonies facing the refugees and Greek people.  In return for E3 billion and visa concessions Turkey has agreed to contain the refugees.
Human rights groups and legal experts believe the deal to be both illegal, immoral and unworkable. Further, Turkish border guards have been shooting and beating Syrian asylum seekers trying to reach Turkey, resulting in deaths and serious injuries, according to reports by Human Rights Watch.
The EU is closing its eyes both to the growing dictatorial measures being pursued by Turkish President Recip Erdogan and the failure to provide safe and humane accommodation.
The deal may well stop the flow of refugees from Turkey but it will not stop the flow. Those fleeing Syria and other war-zones are now attempting the more hazardous journey to Italy, resulting in hundreds of fatal drownings.
We call on the EU to review the Turkey 'deal', in the light of the 1951 Geneva convention on refugees, and revoke it.
Meanwhile Greece is expected to cope with almost 55,000 refugees in temporary camps and detention centres and process asylum claims. In the Athens region alone 15,000 are detained while at the temporary camp at Idomeni on the Macedonian border a further 10,000 are seeking to survive in very poor conditions.  Little of the promised financial and professional help has materialized. Amnesty International's Report published on April18th highlights the squalid conditions which the refugees – mainly women and children – are suffering.
A large proportion of the refugees who are stranded in Greece are children. Of these Save the Children estimates around 2,000  are unaccompanied children. These refugee children are highly vulnerable, at risk from disease and exploitation.   And many have been detained in police cells and detention centres in Greece because there is a lack of shelters. The EU is currently failing to show the earlier political will to provide sanctuary for refugees. The flagship policy, launched last year, was designed to relocate 160,000 people from Italy and Greece to other EU states over a two-year period. But the scheme has largely failed to deliver.  Greece has registered around 3,100 for relocation but EU states have only made space available for just under 1,800. Only through pan-European solidarity will it be possible to demonstrate that Europe can deal with the new global challenges produced by war and persecution.
Greece is in a hugely difficult situation facing the burden of debt and further austerity from its third bailout, but with porous borders and thousands of islands to which refugees will continue to come. This is the dual humanitarian crisis facing Greece: its own people enduring suppressed living standards, cuts to pensions and higher taxes, high unemployment and privatised services and the imperative of supporting thousands of refugees fleeing persecution, death and destruction.
Greece cannot cope alone. Greece should not be left to cope alone.
Borders must remain open.
Refugees must be sheltered across Europe.
Greece must be given special financial aid and additional staff to manage refugee arrivals, process asylum claims and provide effective economic and social support.
Every country must take a share including the richest EU nations like Britain. Safe routes to Britain and other EU countries must be established.
Asylum must be given to refugee children immediately and safe shelter and support provided as a priority.
A European wide solution is imperative. The huge danger lies in a retreat into narrow nationalism and xenophobia. The Shengen borderless zone is under threat.
An emergency conference should be convened of EU states to resolve the crisis on a democratic and humanitarian basis.
GSC co-chair Isidoros Diakides said: "The Greek people have been widely praised for the compassion and humanity they have shown until now, despite their own crisis, but the situation has now become desperate. We need urgently a joint pan-European way forward if we are to prevent more avoidable deaths, reduce the suffering and misery of desperate people fleeing wars and violence and pre-empt the danger of a complete breakdown of unity between European nations. Financial aid where it is most needed, asylum sharing and safe passage for refugees are vital and urgent components of such a pan-European way forward".
GREECE SOLIDARITY CAMPAIGN STATEMENT  23 May 2016