GSC UPDATE 13  (24th November 2012)
To GSC supporters and members – please forward on.
N.B the first event is tomorrow Sunday 25 November!
Thanks to everyone who came to the rally in Smith Square and
the fantastic meeting in the Emmanuel Centre on Wed 14 November,
in support of the workers across Europe on general strike on that day.
1. Sunday 25 November (tomorrow) Greek crisis Infocafe with special Greek menu, Rebetiko music, stalls, exhibition and more at Firebox, 106 – 108 Cromer St,  London, WC1H 8BZ 1200-1700, Sunday 25 November – tube Kings Cross – from 12pm. Make sure to reserve yourself a seat here http://greekcrisisinfocafe.eventbrite.com/
Greek crisis Infocafe with Christos Giovanopoulos from Dikaioma, a network of precarious and unemployed workers in Athens, Rachel Newton from the Greece Solidarity Campaign and Clare Solomon speaking about the delegation she was part of that went to Athens organised by the Coalition of Resistance.  'Rebetiko Recycled' will play 'political songs from the Nazi occupation and civil war and the 1970s junta for their present-day relevance' and we'll have guest singers throughout the day.  More details: Clare Solomon, Firebox 07850 177 637
2. Syriza Public Meeting – Friday 7 December –  Shock Therapy and Popular Uprising: Greece at the Crossroads 19.00-21.00.  £4 contribution to price of room. ULU, Malet Suite 7,Malet St, London WC1E 7HY  http://syriza-uk.org/events/7decemberevent/. Speakers include: Marina Prentoulis, University of East Anglia; Costas Douzinas, Birkbeck College, London; Stathis Kouvelakis, King's College, London; Seumas Milne, The Guardian;
3. Greek speakers at Latin America 2012 conference is Saturday 1st December 2012 Conway Hall, Red Lion Square, WC1 (nearest tube: Holborn) 9:30am – 5:00pm with many, many speakers including locally based Greek academics/activists – Stathis Kouvélakis and Costas Lapavitsas.  Flyer for information and a link to the booking page:
http://www.latinamericaconference.org.uk/2012/10/register-today-for-latin-america-2012-saturday-december-1/
4. Coalition of Resistance National Conference and AGM 2012
The Coalition of Resistance national conference will take place on Sunday 2 December. The conference will decide policy, the next steps for the organisation and elect a new national council.  At the conference every part of the fight against austerity will be discussed – international solidarity and co-ordination, building strong local anti-cuts organisation, working with trade unions and national and community campaigns plus the next steps for the Coalition of Resistance.  There will also be reports from trade unionists after the TUC's decision to look at the practicalities of a general strike in Britain. Individual members of Coalition of Resistance can attend as delegates but CoR wants as many organisations as possible represented at the conference so please make sure your anti-cuts group, student union or trade union branch affiliates and sends delegates.
5. Next Greece Solidarity Campaign Organising Meeting, 6.30 – 8pm Wed 19 December at Ground floor suite, Unite the Union HQ, 128 Theobald's Road, London WC1X 8TN nearest underground station Holborn
6. Two Syriza MPs were on 'the Estelle' Gaza relief ship – Katy Clark MP asked a question in the House of Commons (of the Secretary of State for Foreign and Commonwealth Affairs) on what reports he had received on the Israeli military's treatment of activists on board the ship Estelle. Alistair Burt's reply from the government was non-committal but it's always good to keep them on their toes.  More details on Gaza at http://www.palestinecampaign.org/
7. The fascist threat from Golden Dawn – We are in touch with new anti-fascist developments in Greece to counter the dreadful fascist threat posed by Golden Dawn as described in this ekathimerini.com article  http://www.ekathimerini.com/4dcgi/_w_articles_wsite1_1_12/11/2012_469572 .
8. Use them or lose them: send links to your friends for the website www.greecesolidarity.org and Facebook http://www.facebook.com/GreeceSolidarityCampaign?fref=ts
9. Join the Greece Solidarity Campaign – Unions representing over 3 million members are affiliated to the Greece Solidarity Campaign. Join at www.greecesolidarity.org.
To make a regular financial contribution, fill out a Standing Order at: http://greecesolidarity.org/wp-content/uploads/2012/11/GSC-standing-order-form.jpg – we can make a pound or two a month go a long way.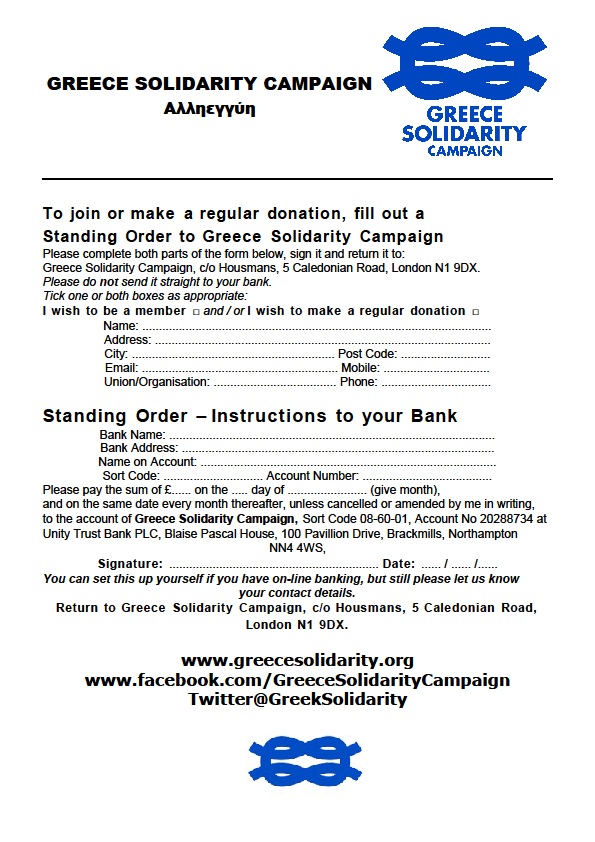 αλληλεγγύη και φιλία – solidarity and friendship – Paul Mackney, Co-Chair, Greece Solidarity Campaign
–  apologies for cross and duplicate posting –