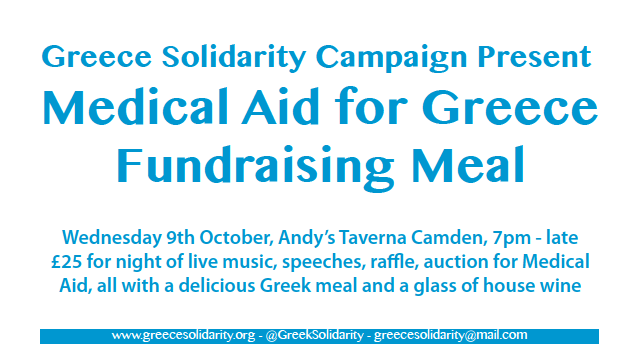 Greece Solidarity Campaign and Medical Aid for Greece are proud to present a fundraising meal for Medical Aid at Andy's Taverna, Camden – Wednesday October 9th, 7pm till late.
Thanks to Petros and his team we are looking forward to a night of traditional delicious Greek food, live Greek music, speeches from those leading the campaign and a special auction all in aid of Medical Aid for Greece raising funds for emergency health clinics run by Solidarity for All Greece. The meal is a chance for supporters of the campaign to get together and show our solidarity with all those fighting against the austerity measures of the Troika in Greece, while also having a lovely sociable evening.
Tickets are £25 each of which £10 goes straight to Medical Aid. The price includes a full Greek meal and a glass of house wine of your choice.
We are limited to 75 seats inside in total.
Buy/book tickets
1) direct from Housman's Bookshop, Kings Cross  2) send a cheque to: Greece Solidarity Campaign, c/o: Housmans, 5 Caledonian Road, London, N1 9DX. Please include a note of your full name(s), a contact number, email address and any special dietary requirements.  3) email greecesolidarity@mail.com to arrange direct payment via internet banking, or call 07761242146 and leave a message.
Please note your booking will be reserved upon us receiving the cheque and its subsequent successful clearing.
Any additional donations will go direct to Medical Aid for Greece.