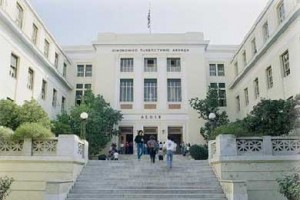 The rector of the Greece's largest university said that it has no choice but to strike against the government's plans to remove hundreds of its administrative staff.
Theodoros Pelegrinis, the head of the University of Athens, said the government's so-called mobility scheme would leave the university unable to function.
He was speaking a day after the university senate voted to keep the college closed for a week until next Monday. This means that the registration of incoming students, which was supposed to begin on September 11, will be postponed. Freshmen have until September 27 to enroll. Staff at both Athens University and the National Technical University of Athens are on strike.
Unions say that of the 6,239 administrative staff at third-level insititutions across the country, the government is seeking to place 1,765, or 25%, in its mobility scheme, which will end in dismissal if another job for them cannot be found in the public sector.
On Monday, university administrators in a number of colleges in the north of the country voted to start 48-hour strikes, starting on Tuesday.
The strike affects the Aristotle University of Thessaloniki, the University of Macedonia in Thessaloniki and the Thessaloniki Technical College (TEI).