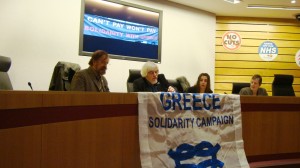 Report by Cllr Isidoros Diakides, Co-Chair GSC, March 2014
Our patron and honorary president Tony Benn is ill in hospital as we've heard. Also in hospital with pneumonia is our big Greek friend, the well known composer Mikis Theodorakis, the 89 year old political activist. I start with these two because they have been at the root of our organisation.
Like Tony, Mikis and Manolis Glezos, another political activist in his 80s, are veteran fighters for social justice who are still active and highly respected by everybody in their countries, even their political opponents, for their undoubted honesty, commitment and integrity. At the risk of making into the Private Eye, I'd say that they are the proverbial national treasures.
It was Mikis and Manolis who, at the beginning of the crisis, called on Greek people to take matters in their own hands rather than relying on their established and demonstrably inadequate traditional parties, encouraging them to come out in the streets, talk with each other and search for their own solutions. That led to the now famous squares movement, which had such an impact on Greek politics, but it also inspired the parallel movements of the indignant in Spain and in Italy. It was at that stage that Manolis and Mikis issued a call to all progressive movements in Europe to show their solidarity with the Greek people in their struggle to reclaim their country.
Our Tony Benn took up the call and asked COR, (the Coalition of Resistance, of which he was the honorary president), to set up a solidarity mechanism.
CoR started by organising a fact-finding, solidarity visit in 2012, which was a real eye opener.
We had 27 people, including leading trade unionists like Manuel Cortez of the railway workers, Dave Green of the fire fighters and of course Paul Mackney, the ex-general secretary of NATFHE and key member of the TUC inner circle. We had leading activists like Andrew Burgin who led the visit, Kate Hudson, General Secretary of CND and Dot Gibson, General Secretary of the National Pensioners Convention and member of the Executive of European Pensioners organisation, Rachel Newton from the People's Charter, Clare Solomon ex leader of the London Students movement, Romaine Phoenix of the Greens and many others. And we had two groups of photographers and film-makers, Guy Smallman and 4man films, who produced the official video of the visit, "Can''t Pay, Won't Pay", shown since then at numerous union and party braches meetings. 
We've organised since a number of other delegations. We took to Greece MPs, like Jeremy Corbyn, Katy Clarke, Andy Love, Linda Riordan and David Lammy; leading trade unionists, including general secretaries like Mat Wrack of FBU, Manuel Cortez of the TSA, senior UNITE officials like Jane Beach, Pilgrim Tucker etc, Simon Renton the current president of UCU, Mary Compton last year's president of the NUT; activists like Joseph Healy of the Queers against Cuts, Tony Simpson of the Bertrant Russel foundation and many others; and journalists like Daniel Trilling of the New Statesman, Mike Davis the editor of the Chartist.
We met there their counterparts, including leading Trade Union leaders and members on picket lines and occupations; politicians, including Alexis Tsipras, who has since emerged as the leading Left politician in Europe and a PM in waiting; local activists, left organisations and movements, strike committees, social solidarity clinics, community markets  and many other projects. 
Here we've organised or supported public meetings, with distinguished experts eg leading academics like professor Kostas Douzinas of Birkbeck, professor Stathis Kouvelakis of Kings University, Marina Prentoulis etc and political figures like Alexis Tsipras, Bambos Charalambous the general secretary of AKEL in Britain, SYRIZA MPs, Greek Trade Unionists etc. We've also organised publicity drives about the situation in Greece, demonstrations outside the Greek and the German embassies and the EU Commission offices, with distinguished speakers like Frances O Grady, Katy Clarke, Jeremy Corbyn and many others and we have addressed numerous political party and trade union branch meetings.
Earlier this year we had a major success in getting, thanks to our friends in the FBU, TSSA and UNITE the full TUC to unanimously adopt a motion of solidarity with Greece, and to support the GSC and our Medical Aid appeal.
I think most people here today would be broadly familiar with the crisis in Greece and its horrendous impact on the average Greek.
It is necessary to point out that this situation in Greece, that led to the need for the GSC, is still dire, but also that the significance of what is happening there, for our trade union movement here and our international fight against neo-liberal austerity policies, is becoming more evident by the day.
Just as a brief summary indicative of the situation, I would like to point out that the national debt, which was c115% of the GPD at the start of the crisis, has now risen to almost 180% and still rising as a result of the ill-advised intervention of the infamous TROIKA. The country's GDP had dropped by more than 25% and unemployment has risen to hitherto unimaginable levels, the highest now in Europe – officially c28%, in reality a lot more, with youth unemployment at more than 60%. Staggering figures in themselves, but not telling the whole story. The hundreds of thousands underemployed, those who after a year are not entitled to unemployment benefits and therefore dropping out of the statistics, the hundreds of thousands who left to find jobs in other countries, therefore not counted in these statistics, or those who are in jobs but have not been paid for months, as unscrupulous employers are exploiting their desperate efforts to hang on to any job.
I could spend hours bombarding you with statistics and facts of the devastation that has been imposed on my country of origin. The suicides, the decimation of local government, the butchering of the Health System, the knee-jerk privatisations of the country's wealth and resources, the destruction of basic civil liberties and employment related protection, the undermining of public education at all levels and so on.  I usually say to interested audiences here that "if you think that you know how bad the situation is in Greece, I can assure you that almost certainly the reality is worse than that".
But there is also a lot to be said about the fightback, the fighting spirit and spontaneous solidarity responses of the Greek population. You can find a lot about all that on our Website. 
These things on their own would justify our will to get involved, but I have to stress that it is not just about helping poor Greece in its hour of need; it is also about us here.
This is our battle and Greece, as well as Italy, Spain, Portugal, Cyprus and Ireland just behind, happen to be the frontline.
I often open my remarks about Greece with "I have seen the future! I've just been to Greece".
Greece has become the frontline of a determined assault by an international neo-liberal establishment against the post war gains of the Welfare State and it is used as a guinea pig; it is a testing ground for models, that until now were used, through the same IMF, in developing countries, designed to be introduce now across Europe. It is clear that these extraordinary austerity measures, the associated privatisation of everything, the erosion of Employment protection and human rights, the decimation and privatisation of support and social welfare programmes etc are intended for the whole of Europe, not just Greece and the other so called peripheral states of the EU.
In our solidarity delegations to Greece we routinely ask trade unionists what we could do to help them in their deserving efforts to reclaim control of their country. Our British delegates are invariably impressed by the almost universal answer they get:  "The best thing you can do for us is to fight austerity in your own country!  If you lose there, it makes it more difficult for us; if you win, it makes it easier for us".
Greece is not fighting this battle against the international neo-liberal establishment, just on behalf of the Greek people; it is fighting a wider battle at the same time on behalf of all of us. If they fall, then my joke, about having seen the future, will become prophecy.
But Greece is also important, internationally and to us here, in another sense. The Greeks have shown some remarkable resilience and fighting spirit and have managed to become the avant garde of the new Left politics, an inspiration to every single radical movement in the Western world.
We know that the emasculation of the radical credentials of the old Social Democratic parties and their recent unholy alliances with their old supposed political enemies, the conservative parties, is a phenomenon across the western world. Radical alternatives, like Die Linge in Germany, the Left Front in France, Sinn Fen in Ireland, the Socialist Party in Holland, the 5 star Movement in Italy and so on, have been growing steadily in the last decade, occasionally threatening to become significant political forces; but most haven't managed this breakthrough yet.
However in Greece, following the squares movement, the population has actually turned against the old established political forces and has spawned new anti-establishment and renewal movements that are now dominating the political scene. Nearly 60% of the voters at the last elections, voted for anti-establishment parties, some of whom didn't even exist 4 years ago, whilst the once dominant ND and PASOK parties, who rarely fell below 40% each in the last 4 decades, have been hugely reduced. Significantly, PASOK, which only 4 years ago won a landslide with 44%, is now down to 4-5% in the opinion polls, widely expected to soon disappear completely, a sobering prospect for its British sister party, the Labour Party and the other Social Democratic parties across Europe.
Crucially, SYRIZA, the party of a radical coalition of various Left, Marxist, Trotskyite, Green and anarchist groupings, is constantly ahead in the opinion polls and two thirds of the Greeks, even opponents of theirs, are taking it for granted that they will form the next government.
That has been an inspiration to all the others that I've mentioned and strong links are being formed.
Syriza's charismatic leader, ex-students' activist Alexis Tsipras, has now been established as the leading Left politician in Europe, by-passing in this respect the previous Left icons like Oscar Lafontaine, Gregor Gyzi,  Mellenchamp etc and he has been unanimously adopted as the European Left's candidate for president of Europe.
So Greece is crucial to us and other progressives across the world in two key ways; as a frontline in the new war between people and big interests and also as an inspirational example of the new Left Politics we all aspire to see.
Our little organisation, the GSC, is playing a small role in all this; it may be little, but it has already the support of major forces who find our efforts worth supporting.
I would like to thank our hosts, UNITE the Union who have supported us from the start and especially the FBU and the TSSA, as well as Frances O Grady and Owen Tudor for the TUC support. Similarly with our emerging parliamentary caucus, if I can use this phrase, Jeremy Corbyn, Katy Clark, Andy Love, Caroline Lucas, Diane Abbott, David Lammy, Leanne Woods etc. I want to re-assure them all, that their foresight, vision and support is having an impact and it is highly appreciated, not just by us the few GSC activists here, but by our Greek comrades there.
Of course we are no more than a small bunch of dedicated volunteers, although one has to say that the skills and experience of those comrades involved has enabled us to punch well above our rightful weight eg having Paul as a leader, has enabled us to for example arrange at short notice a two hour very constructive meeting for Alexis Tsipras with the whole leadership of the TUC, during his recent visit to London. Again how many campaigning organisations can claim a unanimous endorsement of a fighting motion at the TUC conference?
I know that in an AGM we are also supposed to talk about organisational matters. I will only briefly say that we have struggled a bit to get the organisational things sorted out this last year; these boring but essential things like a proper website, proper membership lists, finances, leaflets and reports etc . Thanks to extremely able and hardworking people, like Paul Mackney, Cherry Sewell, Rachel Newton, Bob Archer and Mike Davis, we have, I hope, got them all right and up and running.
Our Medical Aid appeal is also building up thanks to Kate Hudson's and Andrew Burgin's vision and the hard work of Vivian Lakra and Joseph Healy.
We had comrades like Nancy, James and others, who for different personal reasons have recently pulled out, having made a huge contribution, for which I would like to formally thank them. And I'd like to formally welcome the new comrades coming on board, like Gerry Gable, Vivian Lakra, Mike Davis and many others, too numerous to mention, who have been contributing on and off. 
We have now a draft strategy for further development, including long term objectives arising out of our discussions with solidarity groups in Greece, like promoting small co-operatives, solidarity tourism, cultural links, school twinning initiatives and others, like recycling of medicines etc, and of course our renewed efforts to support anti-fascist action. We will be hearing later from AFAfG, created recently, after a large anti Golden Dawn demonstration outside the Greek Embassy. 
I would like to urge everyone here to find out more, about the situation in Greece and about our efforts and to join us and assist in any way they can. Above all remember that this is not some  philanthropic project for the Greeks, but something important to us all as British activists and Trade Unionists. Please become members, affiliate your organisations, contribute to our information bulletins, join our working groups, join our next solidarity delegation, invite a speaker to your branch, group etc, help organising our next fundraiser for Medical Aid, whatever.  
Our impact as a group of volunteers would, by definition, be limited when set up against the scale of what is involved. However all the indications until now are that we are playing a small but useful and important role, both there and in this country. 
Many unions, activists and organisations here find our contacts and information useful, and we are a resource for those interested in what is really happening. Similarly, our Greek anti-austerity comrades find us also a resource and benefit greatly from our morale boosting regular delegations, as well as the contacts that we provide them with when needed.
The amounts that we are able to raise with our Medical Aid appeal are of course a drop in the ocean when set against the devastation that has been caused to the Greek health service. However the appeal itself is a great instrument for raising awareness and our grants to individual solidarity clinics may be tiny, but they are important; they have a symbolic value which is much more important than the money and they are a real morale booster.
I don't know how much longer Greece would need this type of solidarity organisation; one hopes that after the next elections, probably later this year or next year, the process of regeneration would start and we won't be needed long after that.
But for the time being we are needed and we need more people to get involved and contribute.
Being Greek it is appropriate to conclude my presentation with something to do with poetry!! And I will conclude with a small but apposite extract from Odyseas Elytis, one of two Greek poets to win the Nobel prize in recent years (not bad for a small country with £10m population), who years back wrote: " Even if Greece was to be completely destroyed some day, there will still remain an olive tree, a grape vine and a boat. These will be enough to rebuild it from scratch".