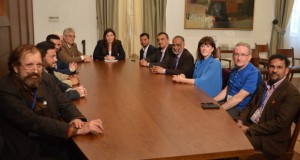 In March 2015 the first local authority solidarity delegation visited Athens. The Tower Hamlets delegation of councillors and trade unionists was led by Councillor and Deputy Mayor Oli Rahman. The delegation was received by Zoe Konstantapoulo, the new President(speaker) of the Greek Parliament, and met with senior figures in Syriza, including Athens Syriza MP Eleni Avlonitou. They met local government and community organisations, Solidarity4All, the left wing mayor of deprived Athens suburb Vyronas, visited solidarity centres and discussed with anti-racist and anti-fascist campaigners and members of the Bangladeshi community. 
Councillor Oli Rahman  has written the following article for GSC reporting on the visit:
'As the General Election draws closer, it should be a time of excitement and interest in politics. But for many, the opposite is the case. Huge numbers of people feel alienated from the political process, cynical about politicians, and don't see any real difference between mainstream parties united on wanting to slash public spending. As the rise of the SNP and decline of Labour in Scotland demonstrates, people want to shake up the political order. This is not true of Britain alone. Nowhere is this more evident than in Greece which has recently seen the election of the left-wing Syriza party on a programme of tackling austerity. A few weeks ago I decided to lead the first ever British local authority delegation to Greece. I did so because I am committed to build European solidarity against the austerity that is destroying the lives of fellow EU citizens. But I went for another reason. I wanted to see up close what this new kind of politics that Syriza stand for actually meant in practice. On arrival our delegation – comprising of councillors, trade unionists and community activists –  was taken into the Greek Parliament to meet with representatives of the International Aid Department. This was timely. The government were in the news for sticking to their pre-election commitment that they would not slash their international aid budget and ignoring demands from EU finance bureaucrats. It was refreshing to come across politicians who don't actually pay lip service to humanitarianism, but put their words into practice.
The message from the Syriza representatives was loud and clear: for the peoples of Europe to defeat austerity we need a strong Europe-wide anti-austerity movement. This message was repeated in our meetings with activists in our visits to two social centres – these are citizen-run health clinics, food centres and legal aid hubs which have emerged to fill the gaps left by austerity. The activists in the centre were at pains to emphasise that he aims of the centres is not about charity and just about helping people in desperate need. They are also about empowering citizens so that they can exercise power to shape and influence the political decisions affecting their lives. I was really impressed by the social centres and the representative from the Unite community centre on Cable Street agreed to look into twinning their centre with one in Athens.
As we travelled around Athens it had the appearance that all is well. The cafes were full, there seemed to be a buzz in the shopping malls. You see people sleeping in the streets but you do so in London too. However underneath the surface the figures tell a level of crisis much more severe than here. It is estimated that half the population are below the poverty line. Household incomes have fallen by a third since austerity hit. Many of those queuing at food banks belonged to the upper middle classes not so long ago.
Politicians with reactionary politics and simplistic solutions have done well in response to the crisis, and none more so that Golden Dawn, an openly neo-Nazi party that has scored up to fifteen per cent in the opinions polls and whose members have been complicit in racist assaults and murder. They have made their gains on the back of trying to scapegoating migrants. The reality of the impact of racism was brought home to us in a meeting we had with the anti-racist and anti-fascist organisation KEERFA which gathered together African, Pakistani and Bangladeshi members of migrant rights organisations. Their plight had been highlighted recently over the case of 35 migrant strawberry pickers who were shot at by their farm guards for asking for pay that was five months overdue. Shockingly, when the case went before a court the guards were responsible were acquitted. We were privileged to meet with one of the leaders of the fruit workers, Tipu Chowdhury, who testimony about their plight was very moving. We agreed we would organise a fundrtaising dinner in support on our return.
The issue of the lack of basic rights for migrants was one that came up a lot on our visit. The local Bangladeshi community organised a dinner in our honour with over 200 people crammed into a tiny restaurant and we met members of the Greek Bangladeshi community who have been living in Greece for decades but still had not citizenship rights. As with all the Greeks we meet on our visits, the warmth of their welcome was overwhelming.
We received a call on the eve of our departure from Athens from Zoi Konstantopoulo, the most senior woman in Greek politics, a human rights lawyer who sued Britain over the Iraq War, and Syriza's President of Parliament, asking us to come and see her. We were honoured to meet her and were all impressed by her easy, relaxed style – she insisted we address her by her first name –  and her lack of the airs and graces. Zoi talked about how five years of austerity had strangled the Greek economy, the importance of building an international solidarity movement and the new government's commitment to tackling racism. The Greek parliament has already made commitments to improving rights and Zoi reaffirmed the government's commitment to redress this issue.
I know I am speaking for everyone on our delegation in writing that our trip to Greece was a really positive experience. It demonstrated the determination of the new Greek government to challenge the austerity agenda wreaking havoc in the EU. I am came back from my trip more committed to the idea of a European Union, but one that is a Europe committed to the interests of all its citizens.'
A Press Report of the Visit is in East London News