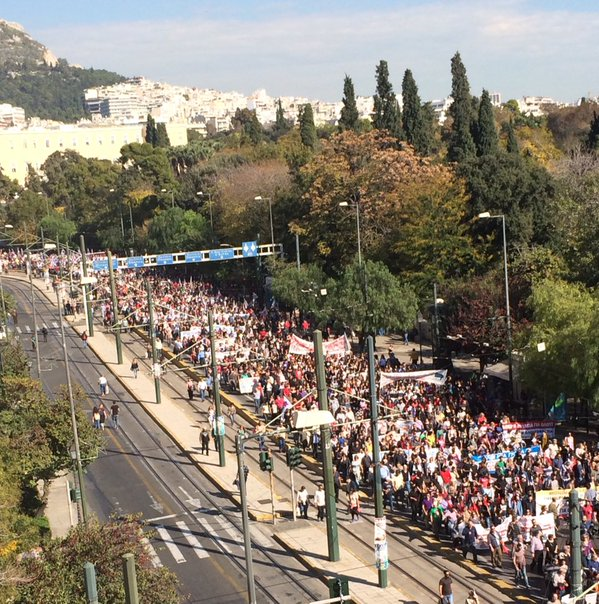 A General Strike is taking place across Greece today November 12th. It is the first General Strike since the signing of the 3rd Memorandum agreement with the Troika which demands even more severe austerity measures be imposed on the people of Greece. It is the first General Strike since the re-election of the Syriza – ANEL government in September. The two big unions – ADEDY representing public sector workers and GSEE representing private sector workers – as well as the two civil aviation unions, the seafarers' union, the local municipalities union, and the two unions for hospital doctors and hospital staff are all on strike.  Thousands have joined angry protest marches in Athens and Thessaloniki.
The press secretary of GSEE union said:
"Before the elections, there were some promises to society. If the tactic of the government is 'whatever we said, holds no more', they will find the workforce in front of them. We owe it to our families, our pensioners, and the young people who are leaving Greece. We can't take this anymore. Not just the measures, but being fooled."
Taxes, salaries and what is widely perceived as the ransacking of the social security system in the form of pension cuts, are the focus of the protests – and the myriad banners held aloft by protestors.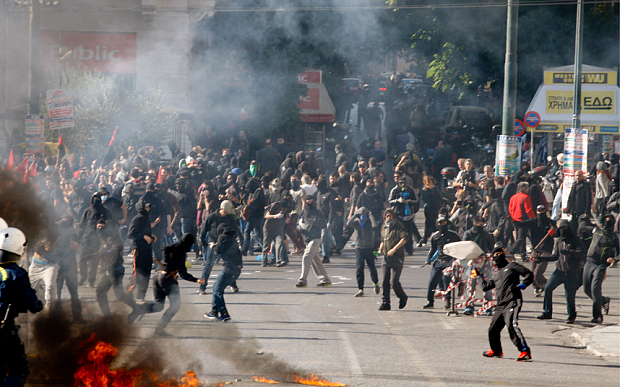 Some demonstrators are reported as saying: "The time has now come to take matters into our hands, to wage war to avert a new crime.  No submission to defeatism, fatalism, the logic that nothing can happen."
The Syriza party labour department has called on people to support the strike to protest at "the neoliberal policies and the blackmail from financial and political centers within and outside Greece." Olga Gerovasili , Syriza government spokeswoman, spoke to Reuters who reported that 'the party has said it will implement its side of the bargain with lenders, but has long maintained that the bailout terms are excessively harsh. Gerovasili said: "We are implementing an agreement which includes (bailout) measures which are unfair."