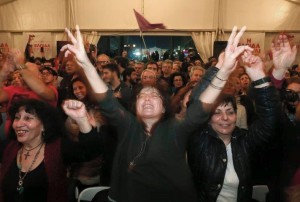 Open letter published in today's (27 Jan) Guardian. Add your support below.
A new government has formed in Greece that places people at the heart of its programme of change.

The crippling bail-out package imposed through the EU/IMF Memorandum has created huge increases in unemployment – especially for the young. There is a consequent loss of health insurance and therefore access to health services for nearly 1 in 5 Greeks, as well as severe homelessness and energy disconnections. This has created what the Lancet has reported as a public health tragedy. Wages and pensions have been drastically cut while living costs have soared. There has been an erosion of basic rights such as collective bargaining. As well as damaging society these policies have failed to reboot the Greek economy and the public debt in relation to GDP is now far greater than it was before the programme started in 2010.

Greek people have chosen a new path. They have chosen a government committed to ending the austerity programme. They have voted for immediate debt renegotiation. Repudiation of some and repayment of the rest linked to economic growth, to give creditors a stake in growing the economy. German post war debt was managed like this in 1953. The Greeks have voted in a new sort of government that has placed addressing the humanitarian crisis at the top of its priorities. The government are taking immediate steps to support those suffering the most under the austerity programme.

The Greek election results have implications for the UK and the whole of Europe. Austerity policies have been a choice by those in power, and they have failed. Greece reminds us that different economics and politics are possible.

Undoubtedly there will be pressure on the new Syriza Government from the EU, the banks and their friends not to deliver their promises.

We applaud the courage of the people of Greece in choosing hope and a new direction in policy that can start to rebuild a sustainable Greek economy and faith in politics. It is in all of our interests to defend them. Solidarity with Greece at this time is an imperative.
Signed: Manuel Cortes President Greece Solidarity Campaign, Frances O'Grady General secretary, TUC, Ken Loach, Katy Clark MP, Caroline Lucas MP, Lesley Mercer Patron of Medical Aid for Greece, Len McCluskey, General secretary, Unite, Jeremy Corbyn MP, Matt Wrack General secretary, FBU, Paul Mackney Chair, GSC, Leslie Manasseh President, TUC, Peter Pinkney President, RMT, Ian Davidson MP, Diane Abbott MP, Owen Jones Journalist, Kate Hudson National secretary, Left Unity, Rachel Newton Secretary, GSC, Steve Turner Assistant general secretary, Unite, Lutfur Rahman Mayor, Tower Hamlets, Salma Yaqoob, Imran Khan civil rights lawyer, John Hendy QC, Jude Woodward Stand Up To Racism, Lindsey German Stop the War Coalition, Sam Fairbairn National secretary, People's Assembly, Louise Irvine National Health Action party, John Rees Editor, Counterfire, Andrew Burgin Coalition of Resistance, Gerry Gable Editor, Searchlight magazine, Mike Davis, Editor, Chartist magazine
Latest Signatures
1,531
c k
Oct 15, 2016
1,530
STELIOS PAPADIMITRIOU
May 08, 2016
1,529
Roger Simmonds
May 29, 2015
1,528
David Kay
Mar 10, 2015
1,527
KALOGERIS DINO
Feb 25, 2015
1,526
Bryan Deakin
Feb 25, 2015
1,525
Dara Mc Carthy
Feb 23, 2015
1,524
Eleanor Bowes
Feb 23, 2015
1,523
David Raby
Feb 22, 2015
1,522
Hilary Smith
Feb 22, 2015
1,521
Thomas Pizzey
Feb 22, 2015
1,520
Barbara Humphries
Feb 20, 2015
1,519
Joseph A. Mungai
Feb 19, 2015
1,518
Judith Daniels
Feb 19, 2015
1,517
SEAN WARREN
Feb 19, 2015
1,516
John Daniels
Feb 19, 2015
1,515
Natasha Jarnot
Feb 19, 2015
1,514
Natalie Sauer
Feb 17, 2015
1,513
Graham Wilson
Feb 16, 2015
1,512
Moya Harris
Feb 16, 2015
1,511
Fran Belbin
Feb 16, 2015
1,510
Theo Tomlinson
Feb 15, 2015
1,509
Pascal Paschalides
Feb 15, 2015
1,508
Sofia Sidiropoulou
Feb 15, 2015
1,507
Panagiotis Karageorgos
Feb 15, 2015
1,506
guy kildonan
Feb 15, 2015
1,505
John Seed
Feb 15, 2015
1,504
Sue Asbury
Feb 15, 2015
1,503
Natasa Agathocleous
Feb 15, 2015
1,502
georgios tsatsos
Feb 15, 2015
1,501
Pete McCulloch
Feb 14, 2015
1,500
daphnis bockstael
Feb 14, 2015
1,499
Herve Gaborit
Feb 14, 2015
1,498
Maria Chondrogianni
Feb 14, 2015
1,497
laure Vermeersch
Feb 14, 2015
1,496
paul peploe
Feb 14, 2015
1,495
Maria Fátima Custódio
Feb 14, 2015
1,494
Paul Harrington
Feb 14, 2015
1,493
nathalie jabli
Feb 13, 2015
1,492
Raul Cabrita
Feb 13, 2015
1,491
Fern Henley
Feb 13, 2015
1,490
Sonja Hoenders
Feb 13, 2015
1,489
Julie Young
Feb 13, 2015
1,488
Robert Morgan
Feb 13, 2015
1,487
Agostinho Sampaio
Feb 13, 2015
1,486
joan pritchard-jones
Feb 13, 2015
1,485
Francisco Romão
Feb 13, 2015
1,484
Jacqueline Peploe
Feb 13, 2015
1,483
bernadette hanley
Feb 13, 2015
1,482
Tom Edminster
Feb 13, 2015
< >